A backyard or side yard typically houses the a/c unit and sometimes trash cans.  I believe we would all enjoy our yards and gardens to their fullest if these essential, but often unsightly, utilities were hidden with attractive plants or structures. Below are some pretty examples of camouflaging the utilities you might have.
If you look towards the gate, on the left, you'll notice the a/c units.  This space has been planted with lush vines and shrubs which don't fully cover the air conditioner units, but they certainly keep you from noticing them.
I can't be certain what this attractive structure is covering…I would have found a way to include space for the trash cans.
This side yard is pretty and appears to have a couple of built ins that house maybe garden tools, trash cans and other yard essential.
This lattice structure is a favorite solution for me.  I'm always looking for a sunny location that can house my sweet pea vines during the season.
Well designed, this surround has a walk in space, possibly to accommodate the service that some a/c units can require.
This surround is pretty basic but attractive due to its simplicity.  I'm sure the pine would gray with age, like the fencing.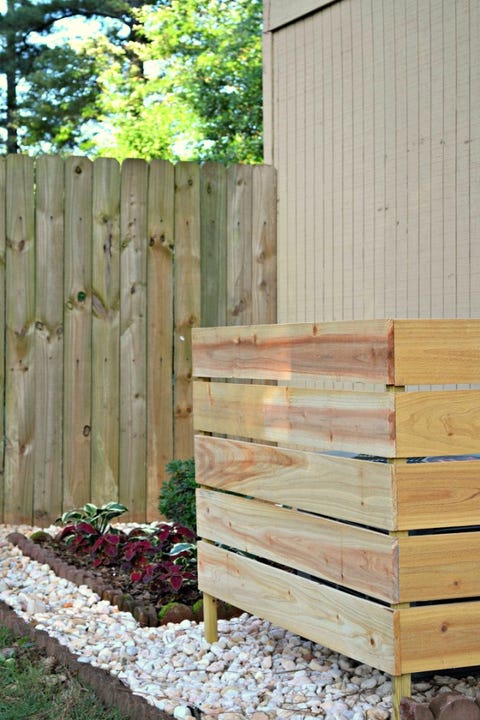 Lush, green and wonderful.  This may serve as only a fence, but it could easily hide something not desired to be visible from the yard.
I hope you discovered some ideas if you have something you'd like to disguise from your yard.
As promised, I will be posting pictures of pretty rooms in my next post.  I love to be outdoors, and Southern California makes that pretty doable year round.  Still, my heart sings when spotting a pretty room in fellow blog posts.
Thanks to all of you that responded to my initial post after such a long absence.  It means the world to me.
xo